Activating the full potential of
therapeutic

botulinum toxin
We are dedicated to unlocking the promise of therapeutic neurotoxins to treat an array of nervous system-related conditions. Our formulation and bold treatment paradigms have the potential to provide lasting relief to millions of patients and offer unique opportunities to our providers and payors.
ABP-450:
One molecule, myriad possibilities
Injectable neurotoxins are renowned for their versatility, resulting in numerous regulatory approvals for both aesthetic and therapeutic uses. However, there are a myriad of potential uses for the therapeutic treatment of numerous medical conditions that have yet to be explored. At AEON, we are focused solely on developing and delivering proven treatments to the people who most need them.
Our lead candidate, ABP-450 (prabotulinumtoxinA) injection, has demonstrated ability to significantly reduce symptoms and improve function in patients with chronic nerve and muscle-based conditions.
ABP-450 is a 900 kDa botulinum toxin type-A complex that has a proven safety profile. When injected at therapeutic doses, ABP-450 works by blocking the release of acetylcholine, a neurotransmitter that signals muscles to contract.1 By reducing nerve and muscle activity in strategic areas, ABP-450 may help alleviate the symptoms of migraines, cervical dystonia, and other disorders.
With targeted nerve and muscle guidance, proprietary injection methods, constant investigation into new treatment areas, and a path to market, we believe that we can provide optimized clinical performance of ABP-450 in the medical conditions we address.
Same botulinum toxin complex that has been approved in the United States, the European Union, and Canada for an aesthetic use2
Sole focus on therapeutic treatment in medical conditions means greater pricing flexibility without tie to aesthetics
Manufacturing site has been inspected and approved by the US Food and Drug Administration, European Medicines Agency, and Health Canada.
Building a better migraine treatment protocol
In the United States, more than 40 million people suffer from migraines, with the largest cohort presenting with episodic migraine.3 Unfortunately, currently available neurotoxins are only approved for patients presenting with chronic migraine, leaving the majority of patients with limited treatment options. Moreover, standard neurotoxin-based migraine treatment requires 31 injections, which may increase the risk of adverse events like brow droop.4
We recognize the urgency of finding solutions that can help improve quality of life while minimizing the risk of adverse events for all people who live with migraine, regardless of frequency. To this end, we have designed a Phase 2 study designed to investigate ABP-450 in patients with both chronic and episodic migraine. This approach enables us to develop a label that can address a broader patient population. Our proprietary patented injection technique features fewer injections (22 injections versus 31) and has the potential for greater safety and tolerability.
In our Phase 2 trial, we will also explore options for titratable dose as well as new and potentially more effective injection sites in the jaw and nasal areas that may enable us to better target the nerves believed to trigger migraines.
Phase 2 Design: Episodic Migraine (EM) and Chronic Migraine (CM)
Expanding options for patients with cervical dystonia
Cervical dystonia is a chronic condition that impacts roughly 50,000 Americans by causing painful and debilitating twisting movements of the neck and shoulders.5 There is currently no cure for cervical dystonia, and the standard of care is botulinum toxin injection. 
To maximize therapeutic outcomes, AEON has developed a treatment approach that provides guidance per muscle to maximize therapeutic effect while minimizing adverse events. In a Phase 2 trial, patients with cervical dystonia injected with ABP-450 experienced significant improvements at lower doses with a durable median response of at least 20 weeks. Additionally, patients experienced adverse events at a rate similar to or lower than other botulinum toxin therapies with zero treatment discontinuations.
Endpoint Expectations for Phase 2 Episodic Migraine
We operate at the forefront of neurotoxin research, development, and commercialization, and we have just begun to scratch the surface of what's possible. With potential applications across an array of medical fields, we are continually exploring new indications that aim to transform the standard of care for many challenging disorders.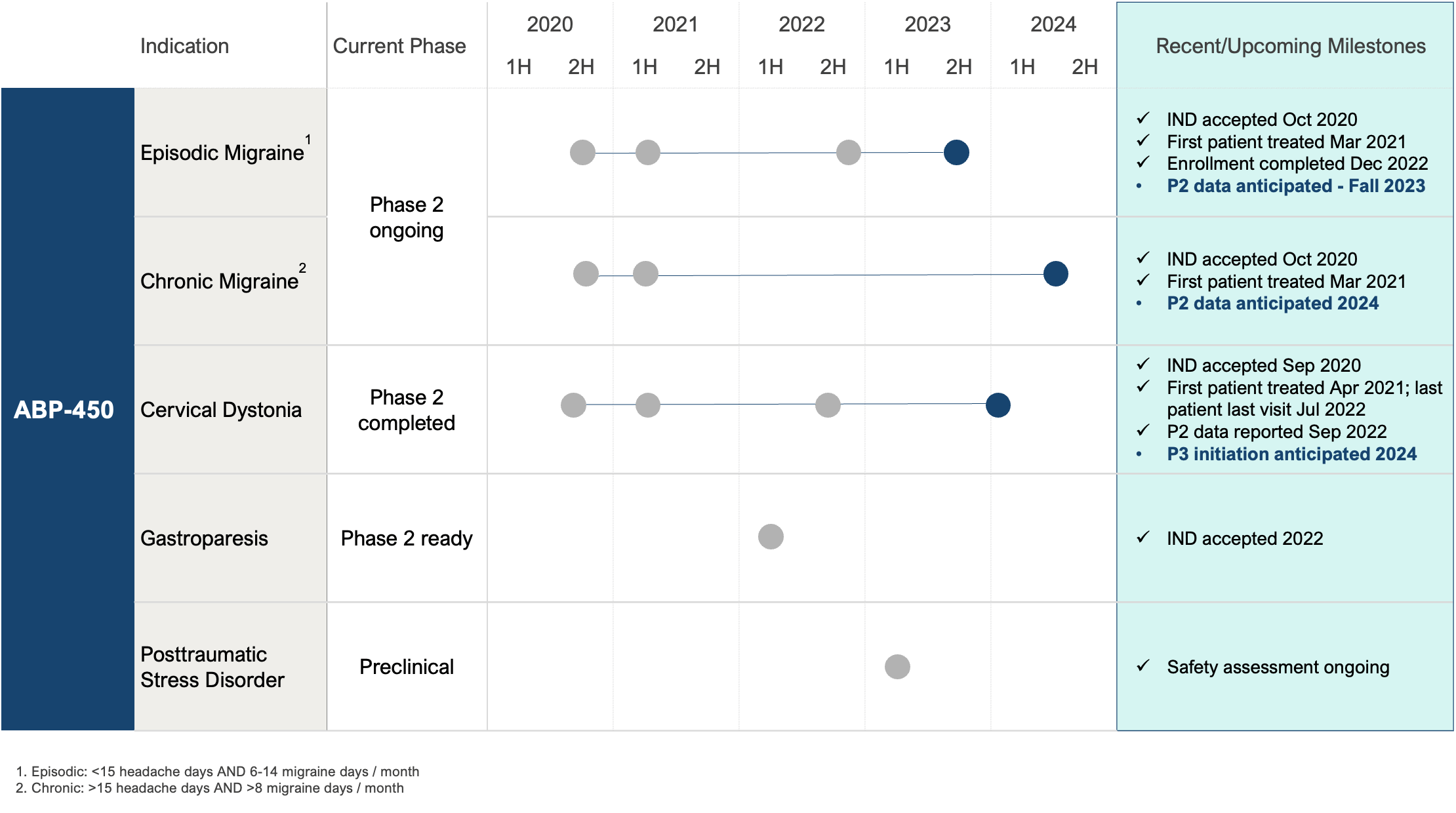 Our deep expertise in commercial neurotoxins guides us in establishing a new standard in neurotoxin-based therapy with innovative strategies that offer new hope for patients currently enduring a number of debilitating and often intractable conditions.
At AEON, we are realizing the vast potential of therapeutic neurotoxins to improve the lives of patients around the world. If this excites you as much as it does us, then this may be the right fit.

We seek partners who are invested in joining AEON's mission to deliver the full potential of therapeutic neurotoxins to patients with a range of nerve and muscle-based conditions. We encourage you to reach out to us for more information.
To learn more about our science, partnerships, clinical trials, investment opportunities, or careers, send us a message.
References
Lagueny A, Burbaud P. Mécanisme d'action, indication et résultats des traitements par la toxine botulinique [Mechanism of action, clinical indication and results of treatment of botulinum toxin]. Neurophysiol Clin. 1996;26(4):216-26. French. doi: 10.1016/s0987-7053(96)85003-9. PMID: 8975111.
ABP-450 is the same botulinum toxin complex that is currently approved and marketed for cosmetic indications by Evolus under the name Jeuveau (US) and Nuceiva (Ex US). U.S. Securities and Exchange Commission. Aeon Global Health Corp: Form S-1/A [Amendment No. 2]. EDGAR Archives. Published 2021. Accessed May 5, 2023. https://www.sec.gov/Archives/edgar/data/1622667/000156459021049917/aeon-s1a.htm
Law HZ, Chung MH, Nissan G, Janis JE, Amirlak B. Hospital Burden of Migraine in United States Adults: A 15-year National Inpatient Sample Analysis. Plast Reconstr Surg Glob Open. 2020;8(4):e2790. Published 2020 Apr 23. doi:10.1097/GOX.0000000000002790
Becker WJ. Botulinum Toxin in the Treatment of Headache. Toxins (Basel). 2020;12(12):803. Published 2020 Dec 17. doi:10.3390/toxins12120803
National Organization for Rare Disorders. (n.d.). Cervical Dystonia. Retrieved April 14, 2023, from https://rarediseases.org/rare-diseases/cervical-dystonia/